Samsung Air Dresser: the closet that refreshes, disinfects and irons your clothes
Samsung has presented a closet that refreshes and irons your clothes i.e., Samsung Air Dresser, a new appliance that promises to be the definitive solution for those who hate ironing, and who have presented during their conference at the IFA 2019. Other manufacturers have already been exploring this field in recent years. , we have examples like the Whirlpool Swash or the LG Styler, and now it is Samsung that seems to have moved token.
It is not a new concept for Samsung, in fact at the IFA fair last year and began to show prototypes. But now they have officially presented it during their conference mentioning that they will start marketing it in Europe. Of course, for now, what they have not said has been the price it will have.
This is the closet that cleans and irons your clothes – Samsung Air Dresser
As Samsung explained during the conference when you put your clothes in this closet-shaped appliance you do it by placing it on a kind of hangers called Air Hangers. To these clothes then air jets are first applied through their Jet Air. Hangers and jets are designed to create an air effect that refreshes clothes.
Then it is the turn of the Jet Steam function, which are steam jets with which the garments are gently disinfected to eliminate bacteria. Then, the Heatpump Drying system gently dries clothes at low temperature to prevent damage.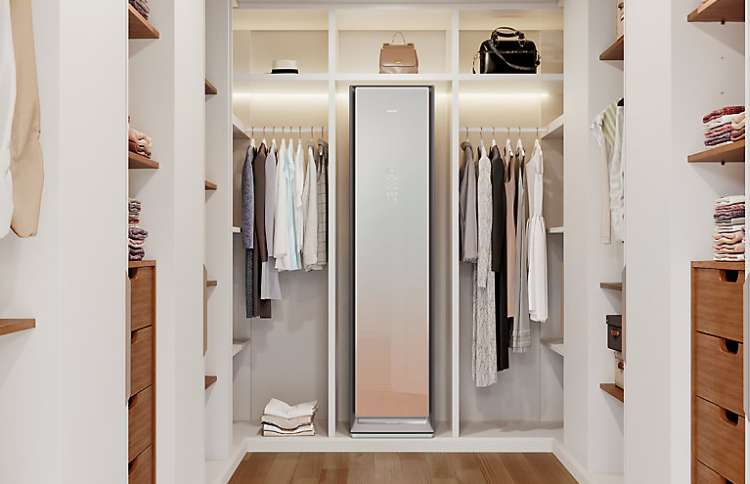 Samsung Air Dresser also includes deodorizing filters to remove odours from garments and even has a dust filter. When the jets of air and steam remove the dust from the clothes, these filters will clean the ones that remain in suspension inside the closet so that they do not end up again in the clothes. With all this, the design of the hangers and the jets will make the clothes also ironed, although it will be necessary to see if it is effective ironing or only the wrinkles are removed.
The idea seems to be simple, to have a closet in which to hang your used clothes and then simply pick it up ready to use again. It is like combining the steam washes of some washing machines, which already remove odours and some wrinkles, and join them to those steam irons that are also sold all in the same product.
As for the price and the date of departure, there is still nothing clear about it. Samsung has insisted that it wants to make it a standard for the care of clothes, especially in delicate garments, and that its design makes it a beautiful and decorative appliance. But they have not given any price or release date, they have only said they will arrive in Europe.