New Fire TV Stick 4K: all its new features
Two years later, Amazon has decided to renew its Fire TV Stick, its HDMI dongle to enjoy Netflix and other streaming services, as well as the remote that accompanied it in the pack, which is now compatible with Alexa in Spanish.
We have been able to test both the Stick and the new remote, and then we review the news and collect what you can and cannot do with the new Amazon device combo:
Two new Fire TV Stick 4k and a renewed remote
Until today, Amazon had the Fire TV Stick Basic Edition on the market, a pack that included the dongle and a command to navigate the interface. Now, Amazon has presented an evolution of that command and two versions of its new Fire TV Stick: the conventional Fire TV Stick, very continuous with the previous pack, and the Fire TV Stick 4K, which only by name already suggests its main novelty.
Fire TV Stick 4K
Although at the time of publishing this article we do not have the full sheet of technical specifications, Amazon assures us that, of the two new Fire TVs, it is the most powerful processor model (we only know that it is quad-core), something logical taking into account that needs to be able to move content in 4K.
The big news is in the quality and resolution offered by the dongle: it now supports 4K Ultra HD You can buy from today on Amazon for 44.99 euros as a launch offer during the first week and include the dongle, the second-generation controller (which we will talk about below), three AAA batteries, power adapter, USB cable and HDMI extension cable The price of the pack after launch will be 55.99 euros.
Fire TV Stick 2019
The conventional Fire TV Stick maintains the same image resolution as the previous one, that is, up to 1080p, and is not compatible with HDR, although it does support Dolby Vision.
It can also be purchased from today on Amazon and its launch price is 24.99 euros, second-generation control included, as well as batteries, adapters and cables. Then it will cost 39.99 euros. For 20 euros of difference, you can have a more powerful dongle and capable of moving 4K, but before buying one or the other you have to wonder what we will need (if you do not have a 4K TV or monitor, the Fire TV Stick 4K will be of little use, of course ).
Alexa finally comes to command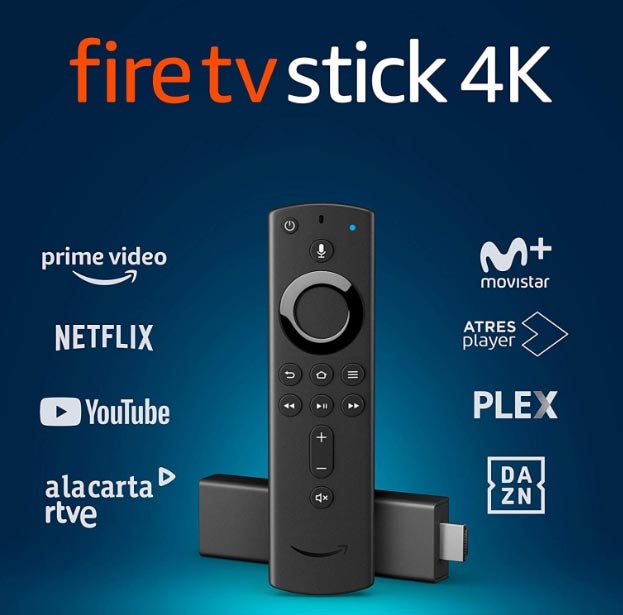 The two versions of the Fire TV Stick 2019 come with the new remote, which is now compatible with Alexa in Spanish, includes a dedicated button for it, so we can use voice commands for things like:
Find a genre of series that we want (for example, "comedy", "action") or a specific movie or series ( 'Spider-Man: Homecoming', 'The Boys', 'Stranger Things' ). This is very good because, in addition, the Fire TV interface has been renewed and now shows all the content of your applications on the same site, so the search results will include contents of all the applications that you have installed and with credentials introduced (Netflix, Spotify, YouTube, Movistar +, DAZN, etc.). That is, you will not have to change the app to watch a Netflix series that is not in Amazon Prime Video.
Advance or delay content. Another thing we can do by voice is to advance or delay a content ("Alexa, advance 5 minutes") or move on to the next episode. For now, it is only available on Amazon Prime Video content, but we have confirmed that later this year it will also reach Netflix, YouTube and TVE A la carte applications.
Cinema. You will be able to see what movies are in the nearby cinemas telling Alexa "what they throw in the cinema", and an own interface will be opened in collaboration with IMDB in which the films will be shown on the billboard with a tab for each of them in which you will find its corresponding trailer and schedules to see it in the different cinemas nearby.
Almost everything you would do with Alexa. Of course, you can also do almost everything you would normally do with Alexa but from the remote. In addition to the billboard, you can ask him things like the weather, jokes or news summary, and for practical purposes, it will be like having a great Echo Show with you because the visual support content that Alexa users will be projected on your TV or monitor. And, of course, if you feel like buying something on Amazon, you can also manage it from the hand, although for now, it is not available in Spain (neither seems the most comfortable to buy, everything is said).
That the command includes Alexa makes interaction with our television more comfortable and fluid
Another of the great innovations of the remote is that it combines BlueTooth with infrared to be compatible with more televisions, which will also allow us to turn on or off the TV or increase or decrease the volume from the Amazon device itself. It will also work with some soundbars, although they have not yet specified which or which brands.
On the other hand, you can also interact with other Alexa compatible smart home devices such as speakers, security cameras, thermostats or light bulbs. For example, if you have a Ring security camera, you can ask Alexa from the remote to show you on your TV what you see from the camera in real-time.
The remote will be compatible with the Basic Edition of 2017 and can be purchased on Amazon independently for 15.99 euros in its launch offer. Then, it will cost 29.99 euros.
New interface and compatibility with Echo speakers
The operating system of the application is still based on Android and has included a makeover with a very interesting novelty that we have already commented: From the same interface you can see or select the contents of Amazon Prime Video, Netflix, Movistar + or YouTube, to mention just a few examples.
That also includes recommendations and suggestions. We have asked if Amazon will reward in any way the content of its own streaming service, Prime Video, and we have been told that the selection of recommended is based on criteria such as popularity or content that you liked before, whatever the service. We will see how it works in practice, but from the user's point of view, it is much more comfortable that everything is unified in the same interface.
The new interface is much more comfortable for the user: all applications and unified content on the same site
By the way, if you had a Fire TV Stick Basic Edition 2017, your device software will be updated to the new interface for free. In addition, Amazon will offer a 50% discount to those users to buy the new remote.
The latest news is that from now on the Echo speakers from the second generation are compatible with Fire TV, so we can already ask the speakers and Alexa to put a YouTube video on the TV, a specific series or to open Netflix.