How To Make Amazon Payment: In Easy Steps
Amazon is probably the best ecommerce platform available today. With tons of delivery options, subscription options, and many other handy features, it managed to grab a huge customer base in the recent decade. Being acquainted with the 'cash on delivery' feature or being new to the site, some people come up with questions like How to make amazon payments. People who have been using e-commerce sites for a while can manage these effortlessly. Fortunately, it is not a complicated procedure to make payment on Amazon. If you are one of those who are looking to know how payment for amazon is made, you are at the right place. We will edify you with the relevant insights in this post.
How To Make a Payment in Amazon?
Making the payment is effortless on all the ecommerce sites. The same is the case with Amazon too. Let us ponder how you can pay for products on amazon.
Step 1: Navigate to the Amazon app on your device. Tap on it.
Step 2: Choose the item(s) that are willing to buy from amazon and add them to the cart.
Step 3: Once all the desired items are added to the cart; Navigate to the cart to check the items and then tap on Proceed to Buy.
Step 4: Enter the delivery address or select one among the pre-entered addresses.
Step 5: Now, you can see various payment options that Amazon can accept. Choose one among them and tap on Continue.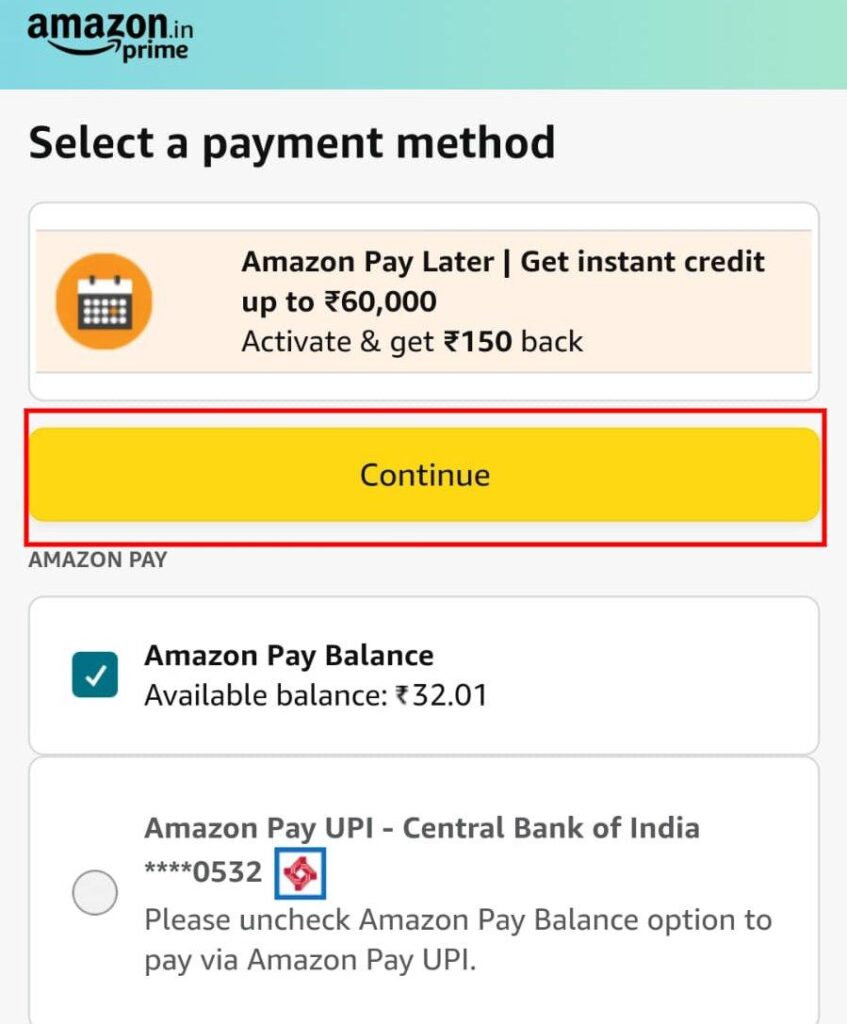 Step 6: Check the item list once again and Tap on Place your order to confirm your preferences. Now you have successfully made payment for amazon and placed the order.
Note that the steps above are stated keeping mobile phones in mind. This process is almost the same in all devices, including tablets and computers too.
Various Payment Options Available with Amazon
Amazon facilitates its users by giving them options to pay in multiple channels and ways. To comprehend all of these better, let us check out each of them in a better way.
Everyone having a bank account probably has either a credit card or a debit card. While these can be used for paying in physical stores by swiping, these can be used to make payments on Amazon too. All you need to do is enter the card details and then enter the OTP you receive in your mobile number. The advent of UPI has drastically reduced the use of cards in recent days.
With the advent of UPI interfaces, payments have become effortless as never before. People started using platforms like GPay and Phonepe to make regular payments like groceries and medicines too. Keeping the trend in mind, Amazon has inculcated these payments recently. You can make payments effortlessly from the UPI interface by entering the pin using these.
Just like other UPI platforms like Gpay, Phonepe, and PayTm, Amazon has created its own UPI interface known as Amazon Pay. This interface is available in an app and also in the Amazon shopping app. Since this product belongs to the company itself, you can avail quite a number of offers regularly using them.
Wallets are becoming popular on all sorts of platforms. After Paytm became a great success, other platforms like airtel and MobiKwik came up with a wallet facility to store money. Amazon made its mark through Amazon Pay Balance. This is the place where most of the cash-backs fall into. You can use this amount to buy items. Further, you can also avail certain offers on using this feature.
If you want the item badly, but you don't have money at the moment, you must look into availing of the Amazon Pay later feature. This feature can be compared to credit card features. You can buy any item on amazon from the credit limit you are offered, and this amount will be taken back later that month when you have money in your connected amount.
Challenges In Payment for Amazon
Payments for Amazon are effortless; however, a few challenges can hamper your payment. Let's check them out for better comprehension:
Internet Failures
Card failures: Sometimes, the bank cards may get expired or be blocked for some reason; these issues block your payment process.
You must ensure that the internet is good to make the transaction to mitigate these issues. Further, ensure you are ready to make more than one mode of payment so that you can use one or the other in case of issues.
Concluding thoughts
Here you are! Now you know how to make amazon payment. While there are a number of options, none of them are too complicated. You may avail any one of them to make the transition smoother. You can always contact the amazon support team in case of any challenges or glitches. Now that you know how payments for amazon are made, get on to the app or website and make payments to your beloved items now.