What is 4K Video, and How Does it Change Video Hosting?
4K video offers viewers sharp picture quality, well-defined colors, and unmatched clarity, regardless of the content type. Whether you're video hosting on a public cloud platform or you're working with a dedicated server or other private hosting infrastructure, 4K resolution is a standout way to improve the quality and lasting appeal of your media. In this article, we'll review the basics of high-resolution media and explain how this format can change your personal or corporate video hosting requirements.
What is 4K, and Why Does it Matter?
4K videos are media files with a 3840 x 2160 pixel resolution. With this many pixels on the screen at once, the image is significantly sharper and more realistic in appearance compared with other video formats, including standard HD and SD resolutions. 4K video also goes by the acronym UHD, which stands for ultra-high definition. For most consumers, 4K video files are the highest quality video product available on the market. If you're shopping for movies online or at a physical retailer, you'll probably notice that the 4K product is the more expensive option.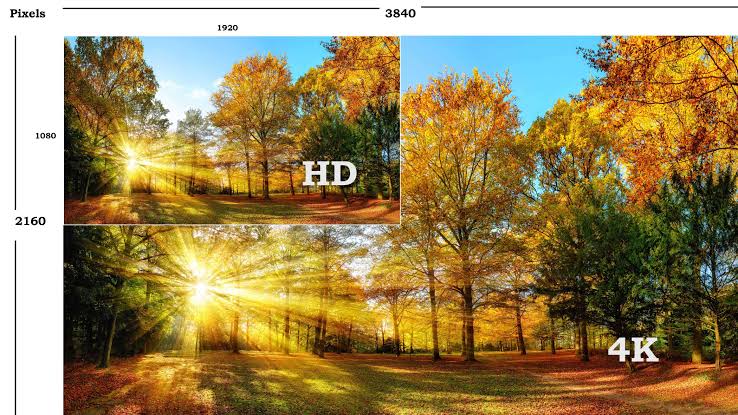 4K vs. HD vs. SD
In a standard 16:9 4K video frame, there are approximately 8 million pixels on the screen at once. The resolution quality is essentially four times greater than a 1080p video file, which has a resolution of 1920x1080p. SD, or standard definition, is a significantly lower resolution quality than HD, at 480p. SD is the resolution of a standard DVD product, which by modern standards is relatively low-quality. The difference between SD and HD is significant, and most viewers will notice the difference when they're set up side by side. While 4K is significantly higher quality than HD, it's less likely that the average viewer will notice the difference in terms of image quality.
Applications of 4K Video
In 2022, top-of-the-line cell phones can shoot 4K videos and photography. As the accessibility of this format continues to increase, we'll start to see 4K video applied to a wide variety of use cases. Movies and TV are the most popular use for 4K video, with most distributors offering this format as a higher-end product for film collectors. However, many businesses use 4K video for commercial purposes and internal media, particularly if they are offering video file access as a product. Moving forward, 4K resolution will become a common format for any media file, whether for personal or company uses.
Requirements for Displaying 4K Files
The pixel density and top-of-the-line resolution associated with 4K video require specialized technology for viewing. Not every television, computer, monitor, or mobile device can play this file format without downsizing to regular high-definition. If you're purchasing a new monitor or screen, check the resolution size to see if 4K files are fully viewable on the device. Many TVs advertise 4K capabilities right from the get-go; it's a significant selling point for some devices. Depending on the size of the screen and the distance between you and the screen, you'll likely experience crisper colors and sharper picture quality.
Differences Between 4K and HD Video Hosting
4K video hosting requires significantly more computing resources than standard HD or SD video files. The requirements and cost of video hosting also depend on whether you're hosting in the files with private or public cloud infrastructure. Here are a few of the things you'll need to consider if you're interested in 4K video hosting for either personal or commercial uses.
Large File Size
4K videos take up considerably more storage space on your hard drive, which means you'll need to check how much cloud storage or server hardware storage you have available for hosting. For those considering private video hosting, you'll want to purchase a server or cloud infrastructure product with at least 2TB of internal NVMe SSD storage.
Bandwidth and Traffic Requirements
The higher resolution and pixel density of a 4K file require significantly more bandwidth and storage compared with the same for an HD file. Whether you're hosting in the private or public cloud, you'll need 500 MBps to work with, particularly if multiple devices need to access a file simultaneously. The internet connection of the device that you're streaming to can also change the picture quality, though this is usually a separate concern from hosting.
Public vs. Private Video Hosting
Hosting in the public cloud, or with platforms such as YouTube and Vimeo, opens up your files for reaching a mass audience. For many individual use cases, the public cloud is often sufficient for hosting. The private cloud is usually a more flexible solution for businesses, offering significantly more security options. To get started with private cloud video hosting, you'll need to contact a cloud services provider and purchase a dedicated server on a monthly or annual basis.
You can implement video hosting on your own hardware, but this is often significantly more expensive for the majority of businesses than a dedicated server. Cloud hosting companies also offer VPS products, or virtual private servers, though these options usually don't have the storage or bandwidth minimums required for 4K files. Many companies use private video hosting for training and process descriptions. Other businesses may use private video hosting for selling paid media.
Why 4K Video is the Future
4K video has taken the film and television industry by storm in the last few years. However, it applies to several industries outside of entertainment. For businesses, the popularity of this format is on the rise. The quality of 4K video, including both its color and clarity, makes it a superior form of media for everything from paid media to personal photography. To get started with private cloud video hosting, you'll want to consider purchasing a dedicated server from a reliable cloud services provider.