How to create a free "pocket" Windows – ReactOS
ReactOS allows you to use Windows applications for free and on older computers. In addition, you can install it on a pendrive to run it on any PC.
More than 20 years ago, a group of enthusiasts decided to create their own version of Windows that was free and open source . At first it was wanted to copy Windows 95, but over time it was decided to rely on Windows NT, the professional version of the Microsoft operating system.
The project was called ReactOS and launched its first functional version in 2004. Since then, programmers around the world have collaborated in a selfless way to make ReactOS an alternative to Windows with functions similar to Windows XP and prepared to work on any computer with at least 500 MB of disk space and 96 MB of RAM .
With ReactOS we can run Windows games and applications without buying a Microsoft license. It can be installed on as many computers as we need, and it can also be tested on a virtual machine to see if it meets our needs.
Today we are going to see how to install ReactOS on a USB stick or USB stick, so that we will have our own portable operating system ready to work on any computer on which we connect our USB. A practical way to carry an operating system always on top. This way we will not depend on the Internet to access applications or documents .
USB with ReactOS, step by step
First, we will download the ISO image we need to install ReactOS. From the two options available, we will choose Live CD , which is the version to use ReactOS without installing it on the hard disk of the PC. In case we want to create a USB to install software on a computer, we must choose the Boot CDoption .
In addition to the ISO we have said, which comes within a 7z compressed file, we need the tool that will create the executable pendrive . There are many, but ReactOS recommends Rufus.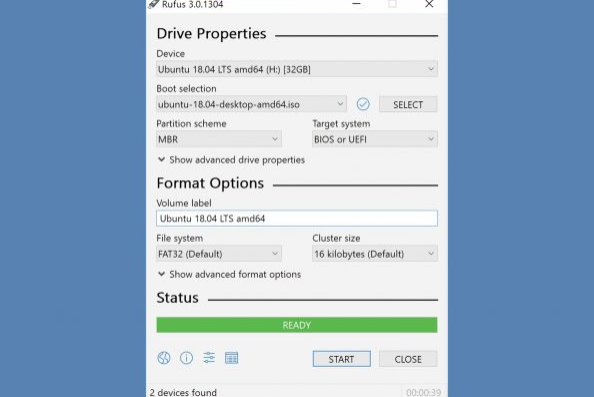 The third element we need is obviously a USB stick or flash drive . Taking into account that to work, ReactOS needs 500 MB, any USB is useful, since today it is easy to run into pendrives of at least 1 GB. Of course, we must bear in mind that we will install more applications , some games and / or save documents and files .
Having all three ingredients, we can now open Rufus from Windows and configure it to create our USB with ReactOS. We will have to choose the pendrive from Device , then in Boot selection we choose the ReactOS ISO image that we will have extracted from the 7z file, and the rest of the options are left as is, such as the boot system (BIOS or UEFI) or the partition (MBR) . The file system is also left as is, since ReactOS works in FAT32.
After pressing the Start button , Rufus will format the pendrive and install the ReactOS ISO image so that when you insert the USB into the PC and turn it on, start this operating system. Of course, the BIOS must be able to boot from USB.
You will find more information about ReactOS and its installation on its official website and on its wiki .