Difference Between Instagram Delete vs Deactivate
Social media platforms like Facebook, Instagram, Snapchat and others can be both, a blessing and a curse. With so much information being shared on these platforms each second, it can get overwhelming.
Every once in a while, it's a great idea to destress yourself by deactivating your social media account and rejuvenate your mind and soul while staying off the buzzing digital world. That means you have two options, either delete your social media account or deactivate it for a while.
Popular social media platform, Instagram allows you to delete your Instagram account or deactivate your account.
Instagram Delete vs Deactivate
If you've got an Instagram account, you're probably using it on your mobile device. The mobile application of Instagram doesn't have the delete and disable option. However, you can delete or deactivate Instagram via the web browser. Instagram makes it difficult for you to find the delete or deactivate option as they would not want you to leave their platform.
After you delete or deactivate your Instagram account
Disabling or deactivating an Instagram account hides the comments you've made on posts, your likes, profile, followers count, and several other account activities. Don't worry, this doesn't mean you'll lose your account as you can always reactivate your account by logging into Instagram with your credentials.
Note: If you want your account to be private, meaning the general public can't see your posts, head over to Settings > Privacy > Private account option.
Deleting an Instagram account means that you will permanently lose your account. There is no going back once you delete your Instagram account as your profile, username, photos, videos, the comments you've made, saved posts, likes, following and followers will all be eradicated. Here's how you can delete an Instagram account.
Once you've deleted your Instagram account, your username will no longer be reserved for you. It will now be publicly available for anyone who wants to use that username for their account. Keep in mind that if your username is valuable to you, you probably don't want to delete your Instagram account.
After deletion, if you decide to get back on Instagram, you can have your previous username back if it's not already been taken by a new person. Unlike the deactivate option where your Instagram username stays with you, deleting completely rids the ownership of your account.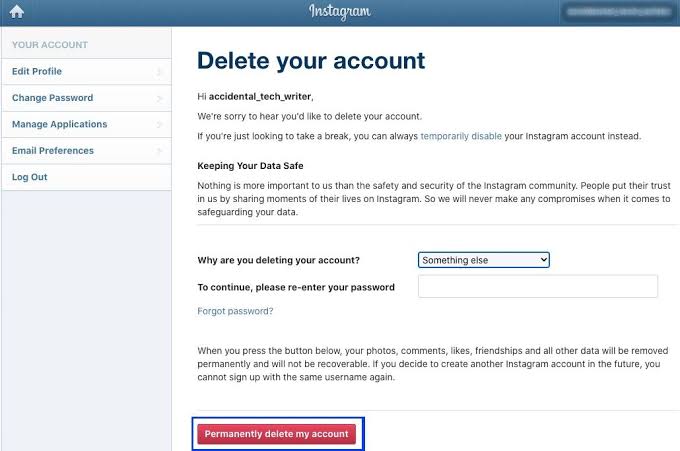 Steps to consider before deleting or disabling your Instagram account
Before you hit the delete option, make sure you have made a backup of your Instagram data. This is because after a certain number of days, Instagram will erase each detail of your account from the server. In the process, your entire account information will vanish from Instagram.
How to regain access of your Instagram account
Instagram offers you the ability to regain your Instagram account if it is disabled. Simply login with your username and password and regain access to your Instagram account.
However, if an Instagram account is deleted, the company is legally allowed to keep records of the user information for up to 30 days. What this means is that your username cannot be given to anyone else for the first 30 days. After the 30-day period, the username is publicly available for anyone who wants to claim it.
Keep in mind that once you've deleted your Instagram account, it might take up to 90 days to fully complete the deletion process. During this time, your account activity will safely remain in the custody of Instagram before it is permanently deleted.
All in all, disabling an Instagram account is far better than deleting it altogether.