7 Interesting Facts About Ragdoll Cat Breed
Aside from dogs, cats are one of the most popular pets to have ever graced the face of this planet. It is pretty interesting how they became a part of our society since felines are known to be solitary creatures, as you can read here. However, it became apparent that most of them like being with us as we are a constant source of food. Rats were also a huge issue back then in the farms, and these animals became a solution. Ever since then, these creatures have become a part of our society.
There is still some debate as to whether cats are genuinely domesticated or not. For example, some accounts are saying that they are domesticated since they are already with us most of the time. However, others are saying that they are not domesticated at all as they still maintain some sort of freedom from our influence. They like being around people most of the time, but they can also live on their own more effectively compared to modern dogs.
The Breed Or The Personality
However, most owners these days are looking for cats that have a lineage. Even though there are millions of cats around the world, people still prefer having a breed for their pets. There is no apparent difference when it comes to their health, but it is usually due to their appearance. Others may also have some characteristics that are unique to that particular breed. For example, you may have heard of ragdoll cats, and they are one of the largest breeds in the feline world.
Its origins are somewhat confusing, although everyone knows that the first breeder for this particular cat was a woman named Ann Baker. She was the typical cat lady, who also has been relatively active in the breeding world. However, she is well known for the ragdolls, and their main origins are still unknown to this day. There was also a period wherein she became rather protective of her breed and made sure that it was only her and her approved constituents that could develop it.
After her death, though, major cat registries began to accept the ragdoll as a part of the system. Now, anyone can own and develop the breed without any kind of repercussion from Ann Baker's estate. It is currently one of the most famous felines in the West due to its big blue eyes and delicate appearance. They also live long, as a typical ragdoll lifespan is more than fifteen years. There are other characteristics that you might want to know about this breed before getting them for you and your family.
What You Need To Know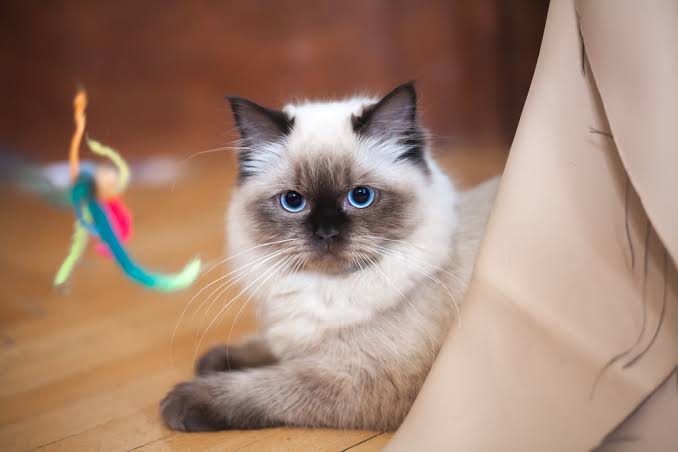 1. Ragdolls Are Sociable Cats
These furry creatures like being around people, even strangers. They are not the most open, but they are not typical attackers either. Instead, they are open with their curiosity and would follow with their eyes. Once they are comfortable, then these felines can be more affectionate compared to other breeds.
2. Most Would Rather Sit Beside You Than On Top Of You
As we have mentioned before, most felines are rather solitary and would like to go with their flow. Meanwhile, these critters are well-known to be rather physically affectionate as they like to go near their owners. They do not have to be on their laps, but they are quite comfortable if someone is around with them.
3. They Are Quiet Most Of The Time
If you may not have noticed at first, most felines are rather loud and vocal with what they want. Ragdolls, on the other hand, are notably quieter, which makes them great for apartments and smaller spaces. However, this silence was also misconstrued as them being invulnerable to pain which is not the case. Instead, they just like being quiet and would sit around as long as they can do it.
4. They Do Not Like Being Held Or Picked Up
As much as they want to be affectionate, most ragdoll cats do not like getting picked up by anyone. Some owners are even struggling with this since you cannot help but lift their furry behinds. When this happens, they tend to try and escape as much as possible without turning it into a bloodbath. However, you still need to be careful since they can still scratch you like any other breed. Here's how you can deal with the scratching: https://www.petmd.com/cat/general-health/how-treat-cat-scratches-home.
5. Curiosity Runs In Their Blood
These furry critters love to roam around the house, but they are not outside animals either. Rather, they love discovering spaces and looking for areas that they can stay in while you are not around. Others just like some time with themselves, even if their masters are not around. However, they would try and touch some things, especially if it interests them.
6. They Like Lying On Their Backs And Exposing Their Bellies
In the feline language, showing your belly is a sign of submission. For this reason, most cats would show bellies only to people and animals that they fully trust. On the other hand, ragdolls love showing theirs, and they are not ashamed of it. If they do this, it means that they are comfortable enough and you can still play with them. Some pet owners have even labeled it as their floppy mode, and it is adorable.
7. They Have Dog-Like Characteristics
Lastly, they are one of the few cat breeds that are often described as dog-like. They are fast learners and are mostly obedient as long as their owners are around. With their innate curiosity, they tend to trust people more willingly compared to other breeds. For this reason, they are great with families and those who already have other pets as well. These little creatures crave social interaction, and you can give it to them through these means.