Top 7 Best Android Media Players
With larger and better resolution screens, it is clear that our Android devices are becoming an ideal alternative to watching videos wherever we are. All phones are preloaded with a better or worse video player ready for the basics, but for everything else, you have hundreds of alternatives on Google Play. Here is the list of Android Media Players.
What differentiates an exceptional Media players from a mediocre one? Which ones are the best? With so many alternatives in the Google store, you may be lost on which players are worthwhile and which ones are more of the same. Here we analyze the seven best players in 2017.
What do we ask from a Media Players?
Taking into account that your Android comes without a doubt with a video player, even if it is to play the videos recorded with the camera, the most obvious thing we ask a third-party player is to exceed what we already have, either in added functions, better performance, a more pleasing appearance, or all of them at once.
These are some of the aspects to consider when choosing and scoring how good an Android media players are, and the basis we will use to compare them in the comparison table, below:
Formats: The more video formats support, the better. You are probably not going to play videos in 100 different formats on your mobile, but just support can lead to problems opening old videos or downloaded from the Internet.
Codecs: Does the player include own codecs? Are they downloaded separately or is it limited to using the codecs pre-installed in the system?
Subtitles: One aspect in which many OEM players fail is the reproduction of subtitles, limited or directly non-existent. A good player supports a reasonable number of subtitle formats and allows you to make minimal adjustments to its synchronization and appearance. Or, even better, search and download them from the Internet.
Streaming: In our comparison, we ignore video streaming services such as Netflix or YouTube, but a good player should have no problem playing videos from the Internet.
Chromecast support: If your mobile screen is too small, an option to always thank is to send the content to an external device such as a Chromecast or television.
Free or almost: Having so many free quality players, it's hard to find excuses to checkout. We will focus on free players in our comparison, if possible without advertising or that is not very intrusive.
Size: Does it occupy little or a lot? The size of a video player can be greatly increased if it includes many codecs, so it is a fact of interest for those who go with just the right storage.
Language: It is probably not the most important element because what is important is the video and not the application itself, but we will also analyze if the applications are available in Spanish or not.
Window mode: It is always interesting to be able to continue playback in a floating window, in case you need to do other things with your mobile while playing a video. The support for the Nougat or higher split window is another plus.
Extras: Finally, do you have something that makes them special apart from the previous points?
Our selection of candidates
Taking into account all of the above, we have selected seven candidates under the conditions that they are more or less up to date (that is, that they have been recently updated) and that they maintain a good assessment by the users.
The video players available on Google Play abound with poor quality applications and clones of open source options such as VLC. In our selection, we have focused on more original options that we would recommend in 2017.
On the other hand, we have used Google Photos as the control subject. Most manufacturers include their own video player, but in the few that do not, Google Photos is the last resort to play video. The idea is not so much that it is a good video player (spoiler: it is not), but to use it to compare what others bring back in comparison.
Google Photos
We begin our review of the control subject: the video player that (almost) all phones have preinstalled. Obviously, we cannot say that Google Photos is a video player, but an application that, among other things, plays video. As a gallery application in the purest Android, the photo application has to double the functions also as a video player. Unfortunately, Google Play Movies only serves to play movies purchased from the Google Play Store and not videos from your mobile.
As media players, Google Photos is a disaster. When you find a format that is not compatible, you simply leave the window black without any warning, it has no subtitle support and the View in the menu, which opens the video in other players, gives us a clue that Google does not really believe you want to watch videos here unless you have no choice.
Now that we know what (little) it offers us as a Google Photos video player, let's move to much more complete third-party proposals that are worth downloading on your Android.
1. MX Player
MX Player has managed to stay at the top of video players for years. It is offered in two versions, free, with advertising, and paid, for 6.10 euros. The advertising is not very nice, appearing full screen the first time you open the application. Otherwise, there are no differences between the two versions.
MX Player uses hardware acceleration and multi-core decoding to fully squeeze the power of your mobile: no matter what you throw it, if your mobile is half decent it will play it smoothly. The format support is very broad as is, but it has additional codec packages that are installed separately.
The subtitle support MX Player is very good, with support for text formatting and all popular formats (SRT, SUB, IDX, SSA, ASS and more). You can even search for subtitles in OpenSubtitles and download them directly, without leaving the application. Magic!
MX Player is an old dog and it shows in the number of options and additional details that others have not yet had time to implement, such as the sleep timer, the possibility of choosing the audio delay or being able to choose with precision the speed of reproduction. Luckily, despite being a legendary application it has managed to keep its appearance up to date, and even has different themes to change its appearance.
MX Player has several modes to adapt the video to the screen and can even correct the aspect ratio automatically, but if none of them fits perfectly, which is rare, you can always zoom manually, as if it were a photo. Similarly, it includes gestures to modify the volume and brightness of the screen easily.
2. VLC Player
VLC media players is another heavy video player, although it cost to end up coming to Android. The interface is one of its strengths, being not only pleasing to the eye but intuitive and very agile. For example, it is extremely easy to connect to a network drive and play shared content, which in other players can be a headache.
VLC media players is similar to MX Player in terms of functions, although it has an essential advantage and is that it is totally free, without advertising. It includes its own codecs, which can solve problems if you have problems with preinstalled ones. The official list of supported videos is MKV, MP4, AVI, MOV, Ogg, FLAC, TS, M2TS, Wv and AAC.
Subtitle support is also very good, both embedded in MKV and independent files in the usual formats. You can download subtitles automatically from the Internet, although it does not give you any control over the process, which is faster but can also be prone to errors.
It includes advanced functions such as playback at a configurable speed from 25% to 400%, the sleep timer or the audio and subtitle delay, ideal if you have trouble adjusting the subtitles.
3. KM Player
KM Player is another old acquaintance of Desktop video players although in this case, unlike VLC, the adaptation for Android is not too good. The main problem is the codecs: among all the players we have tried this is the one that has had more problems, often asking you to download video codecs even for common formats.
Apart from this – great – paste, KM Player is still an interesting player. It has, for example, a resizable floating window mode and subtitle support, with the possibility of fine-tuning the synchronization. In this case, you must provide the subtitles: do not search or download them from the Internet. Finally, you can connect it with Google Drive or its own cloud, KM Connect, to play videos you save there.
4. GOM Player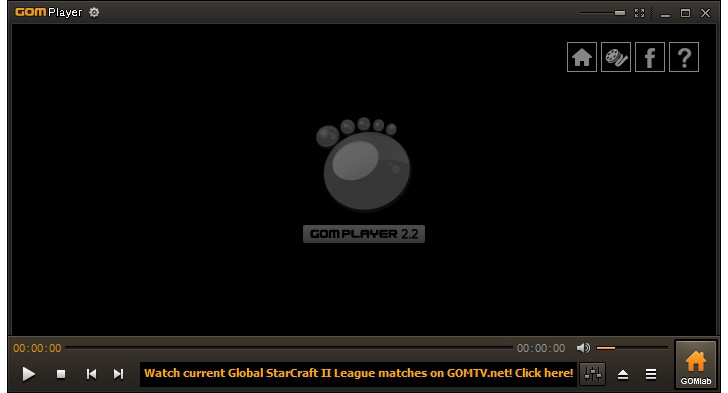 GOM Player looks like a media players of the bunch, but it has some ace saved in the manga. For starters, it supports a good amount of video formats (in our tests, only an old AVI has been resisted). The interface is clear and intuitive, without many frills but with all the buttons insight to perform most functions.
Highlights the curious 360 button that plays any – yes, any – video in a 360-degree view similar to the Facebook viewer, that is, that uses the gyroscope to move the screen. The result varies depending on which video, but it certainly deserves a look.
Otherwise, it also has a resizable floating window mode and gives you the possibility to modify the playback speed from half to twice as fast. The sleep timer is very handy, a touch away.
GOM Player raises the bet of the connection with cloud storage services of KM Player, including support for Dropbox, Google Drive, OneDrive, FTP and WebDav, although you need to search for shared drives on the network: instead, you must connect you manually.
5. Mobo Player
Mobo Player is one of the few video players that are smart enough to continue playback in floating window mode. You automatically switch applications, without having to activate it before manually. This floating window, by the way, is resizable, moves smoothly and can be minimized to a floating button with a touch.
It includes native support for subtitles in the most common formats such as SRT, ASS and SSA, as well as those embedded in MKV, MPV and MOV videos. You can search and download subtitles directly from the application, specifying the name of what you are looking for manually. The options to configure subtitles are quite extensive, being able to readjust them and change their size, design and position.
An interesting aspect in which MoboPlayer stands out is the possibility of sending a video to be played on DLNA television. Unfortunately, I have not been able to successfully retransmit my television so I cannot speak for or against.
6. InShot Video Player
The InShot video player, also known as All Formats Player. As the name implies, the emphasis is on supporting a large number of formats: MKV, MP4, M4V, AVI, MOV, 3GP, FLV, WMV, RMVB, TS and more, with support for 4K video.
It is a well-designed application that looks agile. It has all the necessary buttons at hand, support for gestures to modify brightness, volume and move in the timeline. By doing the latter, by the way, you can see a preview of the video in a floating window, which is ideal for you to find the right scene.
This player has advertising (if you want to remove it, you must pay 4.29 euros) but the truth is that it does not bother too much. It appears when you pause, but it can be closed, and small rotary buttons are also shown that once opened, disappear until the next one.
The subtitle support is correct, from the integrated ones to the separate SRT files, with the possibility of searching and downloading them directly from the Internet. From them you can adjust their colour and size, but not their position.
If something stands out these media players is that it is the only one that can really send videos directly to Chromecast. In this case, unlike Mobo Player, it has been sent and retransmitted perfectly during our tests.
7. BS Player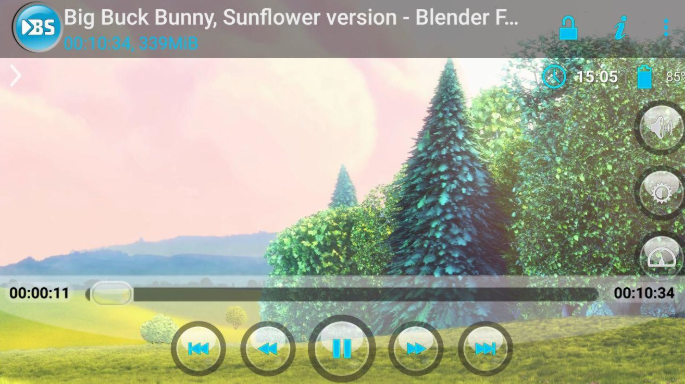 BSPlayer is an old reproductive dog that a few years ago we would have described as one of the best. Today it may not be at the top, but it is still a player to consider.
Although it has been updated relatively recently, there are many details of BSPlayer that refer to past times: from the interface design to buttons to download codecs from the "Android Market". In short, one could say that it is an experience at least retro.
Appearance aside, BSPlayer has good support for subtitles, with different options on its format and design and search and download directly from the Internet. It is also possible to adjust them to fit exactly the audio.
It supports almost all the video formats there are and for having, although in some cases you need to download codecs from Google Play. As you can see here, there are several codec packages available.
As for added functions, the floating window player, gesture operation, playback at different speeds or the sleep timer are not lacking.