How to enhance your WiFi using WiFi heatmapper
A WiFi heatmapper is a software application used to generate a WiFi heatmap. There are several such applications available today. NetSpot is the best tool to visualize and monitor your WiFi performance. WiFi heatmaps are essential when analyzing and enhancing WiFi performance, coverage, and signal strength.
How does a WiFi heatmapper work
A WiFi heatmapper takes WiFi signal strength readings from multiple locations within your WiFi coverage area, performs an in-depth analysis of the data, and provides a WiFi heatmap to help you better understand how well your WiFi is functioning.
A WiFi heatmap identifies dead zones, areas with weak WiFi signal strength, where your WiFi signal is the strongest, and potential interference from other devices and WiFi networks. A WiFi heatmap is the most effective tool when analyzing and enhancing your WiFi network. NetSpot provides the best WiFi heatmapper available today.
A WiFi site survey records WiFi signal strength readings. This survey is conducted by moving about the coverage space and stopping at various locations to take a set of measurements. These measurements create a heatmap overlaying a map of your home or workspace.
How to create a WiFi heatmap
To create a useful WiFi heatmap, you need an accurate map of the area covered by your WiFi. The distance between locations must be correct and you must be able to find yourself on the map while creating the WiFi site survey. The WiFi heatmap will overlay the digital map you provide of the evaluation space. A complete and accurate map of your home or workspace is a must.
Create a map or drawing of your area
If you do not have an image file of the area where you are creating the heatmap, you will need to create one. The drawing needs to be accurate to read the heatmap correctly. Make sure the dimensions of all rooms are correct and include all doorways, walls, and space. If multiple floors are covered, include all staircases.
You may already have drawings of your floor plan that you can scan and use. If not, you can obtain a copy of the blueprint for your building from your County Clerk's office. You can also draw the layout of the area. You can use a digital tool or draw it on graph paper and scan the image or take a picture using your cell phone.
NetSpot includes an integrated drawing tool to help you create a map. The image needs to be in one of the following formats: GIF, JPEG, PNG, TIFF, or PDF. If using a PDF, you can only use the first page of a multi-page document. Black and white images should be used, with the background being white. If your map is large or has a very high resolution, you may need to add it in pieces. The maximum size allow by NetSpot is 3000 x 2000 pixels.
How to perform a WiFi site survey
The best tool to use when creating a WiFi site survey is NetSpot. When you create a site survey, load a digital image of your home or workspace. Once the map is loaded and you have positioned your WiFi, you can begin the survey process. The results of the survey will create your WiFi heatmap.
To perform a WiFi site survey using, provide the information asked when you first start a survey. Name the survey, provide your digital map, and complete a few other setup steps to establish the scale, units of measure, etc.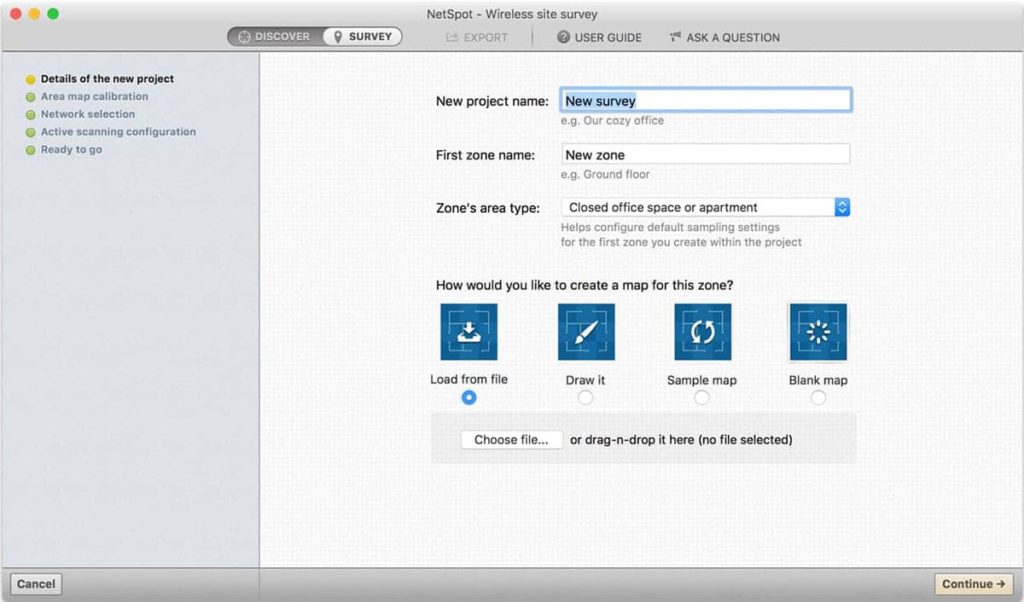 During the survey, you will move to different spaces on your map and take survey readings. Remain still while taking measurements. By default, NetSpot takes three readings at each location, averaging the results for higher accuracy. Continue taking survey readings to cover your map area. You should take a few measurements in each room, especially from locations where you know a device will be accessing the WiFi.
Once you complete the survey, you can analyze your results using the WiFi heatmapper.
How to enhance your WiFi using WiFi heatmapper
A WiFi heatmap is a visualization of the performance of your WiFi. Red to yellow areas represent locations with strong WiFi signals. Green to Blue areas have weaker WiFi signal strengths.
Remove WiFi dead zones
An area where no color is displayed is a dead zone within your WiFi network. Within a dead zone, you will not have a WiFi signal. You will experience drops in your WiFi connection when crossing or remaining in a dead zone or. With a WiFi heatmap created using a high-quality WiFi heatmapper, such as NetSpot, dead spots can easily be eliminated and areas of weak WiFi signal strength can be strengthened.
Avoid obstacles blocking WiFi signal
When analyzing a dead zone or a weak WiFi signal area, check the direct "line-of-sight" between the measurement point and the WiFi router or access point. Repositioning your WiFi router to avoid obstacles (i.e., masonry walls, shelves, mirrors) between the location and the router will improve the WiFi signal strength in those dead or weak zones.
Identify locations where a WiFi booster may help
In some situations, you may not be able to reposition your WiFi router or remove obstacles between locations. In these situations, a WiFi booster can be added to your WiFi network to increase the signal strength in isolated or distant areas. Adding a WiFi booster amplifies your WiFi signal strength.
After making enhancements to your WiFi network, you should conduct a new WiFi site survey. The WiFi heatmap created from the new site survey information will verify your improvements achieved the desired results.
Creating WiFi sight surveys and using a WiFi heatmapper to visualize the results should be an on-going process. It is not enough to conduct one survey. Items get moved, network traffic patterns change, and new conflicting signals get introduced. Utilizing WiFi heatmaps from NetSpot's WiFi heatmapper should become a best practice in homes and workspaces. A high-performing WiFi network requires continuous monitoring and evaluation.