5 Ways Technology Is Helping to Connect Ports, People, and Ships
For as long as man has been able to travel by sea, the maritime industry has played an important role in the expansion of trade and business. It is estimated that approximately 90% of goods traded on the global market travel by ship.
Until now, the shipping industry has been able to handle the volume of goods it transports. However, with the world's population growing at such a rapid pace, exports and imports have risen tremendously in global markets and show no signs of slowing down anytime soon.
While the expansion of marine transportation is a good thing, it does present its own set of challenges, especially with the increasing number of ships sailing the waterways at the same time. Fortunately, these difficulties are being confronted head on. The maritime sector is taking advantage of technology to facilitate the reliable and safe delivery of goods around the world by ensuring ports, people, and ships remain connected at all times.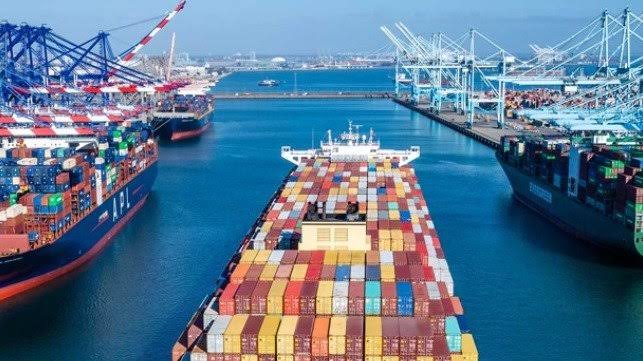 Some of the technologies at the forefront of this adoption are listed below:
1. Sensor Technology
One of the ways sensor technology is being used at sea is for ship maintenance. The introduction of sensors has almost completely eliminated the need for the equipment on ships to be checked manually.
Instead, crew members are assigned to keep accurate track of the equipment's working condition, complete operability on ships, and the maintenance required at regular intervals via wireless connectivity that connects all of the equipment to the sensors.
In addition, the capabilities of sensors are expanded further when it is used alongside artificial intelligence and machine learning; it then becomes possible for the sensors to gather and analyze data.
The use of sensors is intended to improve vessel safety and operational efficiency. Sensor technology is expected to be used for any type of autonomous operation in maritime shipping in the future. However, the information currently collected by this technology allows the members onboard the ship to better understand it, allowing them to make better decisions for the safety of all.
In effect, sensors enable better communication between humans and ships.
2. Robotics
For decades, robotics has been one of the world's emerging technological trends. Almost every industry has devised novel applications for this piece of technology.
In the maritime shipping industry, robotics is being used to assist in activities such as delivery and packing of goods. Robots are also used to assist with maintenance, communication, control, and other tasks.
Seeing as robots work more efficiently and without breaks, the shipping industry is expected to rely heavily on the use of robots for all functions. So far, there has been one major issue with the widespread use of robots in all areas of a ship: size.
The majority of the robots on the market today are roughly the size of heavy machinery. However, this might soon be a thing of the past, new types of robots, called 'mini-robots,' are being paired with the sensors to record, identify and analyze data.
3. Satellite Communication
With increased ship traffic around the world, it is becoming increasingly important to improve security and safety in order to protect ships out at sea. When important decisions must be made quickly to improve or protect any of these factors, effective communication among all parties involved in the maritime chain is critical.
There has only been one technology that has been able to deliver the communication coverage ships need; that is, satellite communication (maritime). VHF radios, which are standard on most vessels, have a limited range and can only communicate with nearby ships, and cellular services cease to function once the ship is a few miles offshore.
Also, internet connectivity is now an essential component of maritime communication channels because it allows for remote diagnostics, chart and weather updates, and telemedicine, among other things. Modern marine satellite systems, such as the Thuraya Orion IP, which supports broadband data communications at speeds of up to 444kbps, allow ship operators, owners, and crew to communicate from anywhere.
4. Internet of Things (IoT)
Many industries have seen significant growth as a result of the Internet of Things (IoT). IoT is now helping the maritime sector to improve shipping efficiency through the use of unified platforms and connected sensors that enable real-time monitoring of systems on board the ship.
In seafaring vessels, IoT-based solutions can monitor variables such as tilt, location, shock, temperature, pressure, humidity and send this information to shipping companies or control centers.
IoT-based solutions are also being integrated into shipping infrastructures such as refrigerated containers, allowing the shipper to monitor the product in real time. In other words, on a micro level, IoT is assisting maritime transporters in obtaining the real-time status of cargo containers, as well as analyzing and monitoring this data until it is delivered. On a larger scale, IoT sensors are helping seafarers track the location of their ships.
5. Cloud Computing
Cloud computing is becoming increasingly crucial in maritime transport and logistics because it allows maritime stakeholders to manage their information technology (IT) infrastructure more efficiently without worrying about maintenance or underlying infrastructure costs.
Also, using cloud-based solutions in addition to high data links to satellite broadband communications systems, the Thuraya Orion IP allows vessels at sea to communicate with maintenance providers, port operations ashore, and transportation partners or vice versa. Thus, fostering collaboration because maritime stakeholders can share and access data stored in the cloud in real time.
Technology's Role in Maritime Operations
The wide adoption of technology in maritime operations has improved communication, navigation, and safety a great deal. This improved connection has assisted marine transporters in reducing the risk of disasters occurring as they chart waterways. As a result, these ingenious technologies have also played a role in the preservation of the lives of hundreds of maritime workers.
Although there is usually a lot of resistance towards the adoption of highly innovative yet unfamiliar technology, shipping and technology are no strangers. The future of the connection between all parties involved in the maritime supply chain looks set to be controlled by new and advanced technological methods.